I'm going to preface this with the fact that people make death threats over sports is outrageous. I'm about as hardcore a fan of my teams as one would come to meet, and as this year has progressed, there has been a lot of negativity. I wasn't happy with the Mets, and now I'm not happy with the Gators and Giants. I think that there is allowed to be anger, and you should be allowed to voice that anger. However, when you threaten anything but someone's job, you have crossed the line. Yes, bad coaches should be fired; but no one should feel unsafe because of sports fans.
I haven't heard or seen the question that led into this answer, but I can't believe that this answer was given during a press conference. Especially before a game that will easily make or break this season, let alone possibly the future of the football program in Gainesville. From what I understand, this was not an answer that was really solicited by the reporters. McElwain just let it fly, I'm sure not aware of the repercussions of what he was saying. This is just another one of the silly missteps that this coach has taken.
If there was death threats made to him, his family, or the players, they should be pursued as vigorously as possible and the people making those asinine threats should be punished. The problem is, apparently when Jim was pressed on the issue by the University Athletic Association, he didn't want to elaborate. Here is the UAA's quote: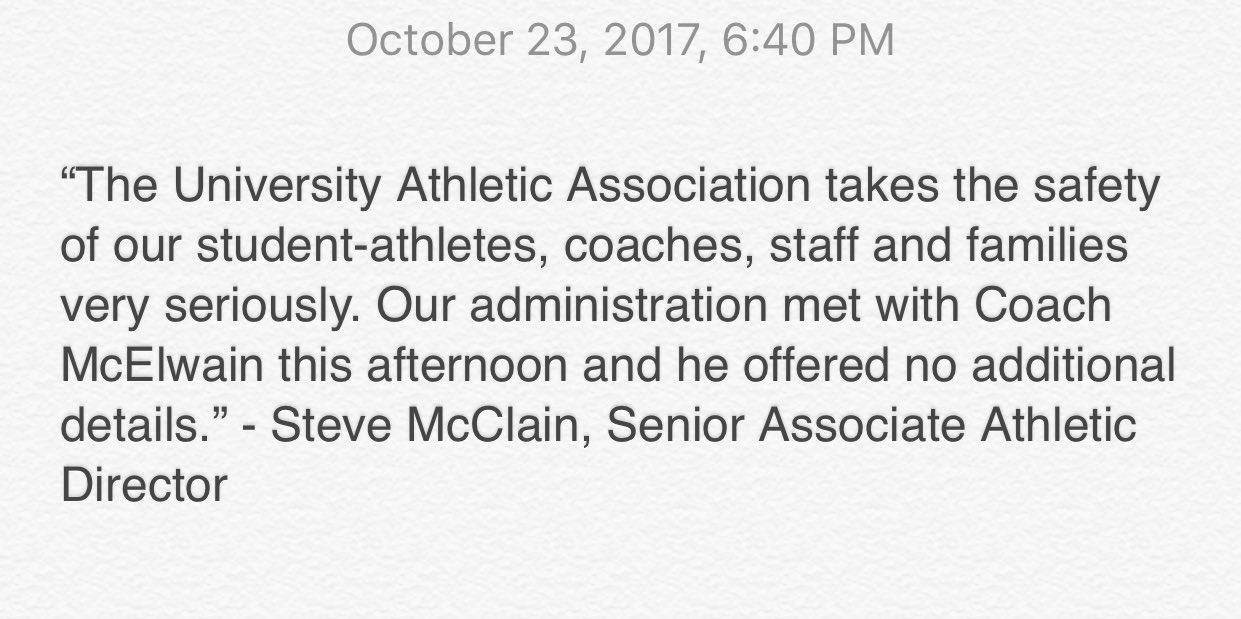 If you're going to bring up a problematic issue, why would you not want it to be resolved if at all possible? Instead, McElwain has now just whipped up a controversy where there need not be one. This is starting to remind many people of the shark photo nonsense that happened previously. Instead of just ignoring the garbage and focusing on the task ahead, this coach decides to bring it to the forefront.
So, as would be expected, players now have to deal with an issue that wasn't one before today. Players need to answer questions about the fans. Instead of focusing on the game against Georgia this weekend (A game that will determine the SEC East) players are focusing on the negativity surrounding the program at this time.
As a coach, it is your job to protect your players. It is your job to get the players to focus on the upcoming game, especially if it is a rivalry game with as much on the line as this upcoming game has. Most coaches try to limit the turmoil; McElwain has decided to stir some up before a big game. McElwain didn't think of the team and the job first, he instead thought of his personal feelings. That decision is likely to hurt the entire team.
I see this turning into a bigger issue and this season really taking a nose dive. With how emotionally sensitive Jim McElwain is, I don't know if he is truly built to be the head coach in the high intensity region of the SEC. I look for him to look for a way out – Oregon State could just be the out he's looking for.